While I wasn't exactly *thrilled* to learn that I'd need to add yet another HMD to the list, in fact I'm really eager to play around with Microsoft's Mixed Reality platform.  And earlier this week I finally received my first MS MR Headset -the $499  Samsung HMD Odyssey.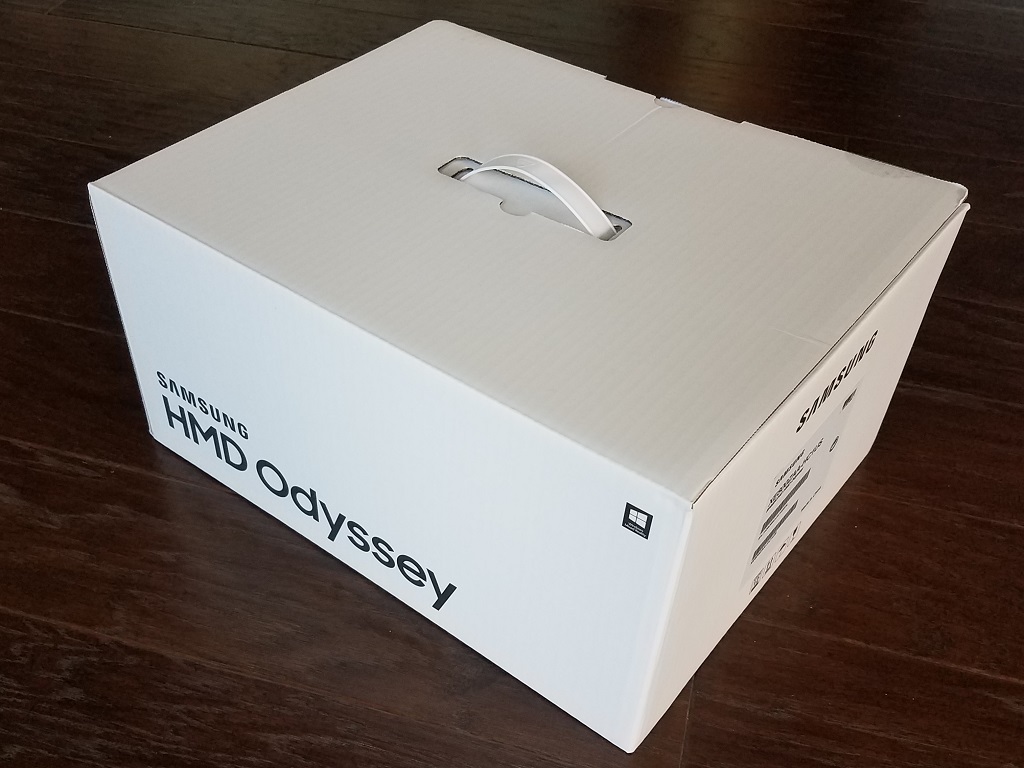 I chose the Samsung HMD Odyssey for a couple of reasons – the largest two being;
it has the "best" resolution of any of the MR HMD's – 1440×1600, 90Hz OLED displays with a wide (110°) FOV.
It comes with controllers
Installation:
Anyone who's done as many HMD setup's as I have come to love the Vive and revile the Oculus. I was somewhat dreading what I'd find, but for the most part it went OK. The most annoying (and time consuming) thing was getting my PC updated to the Windows 10 Fall Creator's Update, version 1709, without which you'll never get to do anything with Windows MR. After more than one false start and finally using the Windows 10 Update Assistant (get it here) to actually force it to update, after many hours of effort & downloading I finally got it to install. The Odyssey comes with it's own bit of software, very much like a Vive or Rift would have. Plugging everything in after the Win10 update everything nearly worked on first try, with the exception that I had to install Bluetooth drivers to actually use the MR Controllers (a requirement for all of MS's MR controllers). That updated, everything then worked, and much like a Vive, it first had me mark out the play area. (seated is also an option).
Ergonomics:
The Odyssey's controllers are Samsung's own, and have a slightly (IMO) nicer design than the stock ones. They are about as clunky as the Vive wands – which means not nearly as nice a the Oculus Touch or the upcoming Vive "Knuckles" controllers.
The HMD is a bit front heavy, but it does have good integrated headphones and a feel somewhat like the Sony VR HMD. Unlike the Sony the lenses don't have a dolly that lets you move them out from the HMD frame, nor do they flip up like some of the other MS MR HMD's do – probably the biggest missing feature. There's some soft rubber around the nose which I find the edges of which start digging into my nose after wearing them for a bit – if it annoys me enough either some tape or a trim with some scissors should fix that. It could be a bit better balanced, lighter and wireless but it's not a lot different from many of the other HMD's out there.
Tracking.
HMD
The HMD tracks fine, even when you are facing away from the monitor. Since it needs light to track successfully it's likely doing some image processing to track objects in the room as you move and rotate in addition to the built-in compass, gyrometer and accelerometer.  Overall (in the play area) it's pretty accurate and the boundaries on the play area pop up when you (or a controller)  get too close to an edge.
Controllers
I was a bit worried that the inside-out tracking would suck, but it's much better than I expected. Overall it's not *quite* as accurate or fast as the Vive controllers, but it's good enough and doesn't get in the way – the controllers are fairly accurately tracked and the lag is minimal. They are positionally tracked by the HMD cameras and the tracking extends just outside the display range. Rotational and accerometer information is sent by the controllers themselves and thus is always tracked.
Overall:
The visual fidelity is great, the tracking has sold me on inside-out as a viable method for tracking controllers or (eventually) hands. I'm not in love with the ergonomics, but it's certainly usable for extended periods of time. It's certainly ready for some social interaction, anything not requiring a fine degree of control, or extended keyboard input. These will come later, but this is certainly a viable start.